You are here
Home
»
ECPC Call-to-Action for Justice, Peace, and the Protection of All Children Affected by the War in Israel and Palestine
ECPC Call-to-Action for Justice, Peace, and the Protection of All Children Affected by the War in Israel and Palestine
This ECPC interactive Call-to-Action is now available in English and Turkish. 
---
This is an urgent appeal. 
Thousands have died. The killing, maiming, and abduction of children must stop. Attacks on schools and hospitals, and the impedance of humanitarian aid to affected children and families/parents/caregivers, are unacceptable. These are among the most serious violations of international human rights laws protecting children and constitute four of the Six Grave Violations Against Children During Armed Conflict as identified by the United Nations Security Council Resolution S/RES/1612 (2005).
The Early Childhood Peace Consortium (ECPC) is extremely concerned with the impact of the current war in Israel and Palestine on innocent children. Every conflict profoundly impacts people of all age groups, but children are disproportionately affected. Being far more vulnerable to violence, hardship, and toxic stress, they can suffer physical, psychological, and emotional effects for the rest of their lives. That impact can pass from one generation to the next. Any delay in bringing this catastrophic conflict to an end will have enduring consequences.
---
ECPC Call to Action
1) We call on the international community to implement an immediate unconditional cessation of violence and armed conflict.
ECPC calls for all parties to ensure the safety of all children and their caregivers, and afford them the special protection to which they are entitled, as stipulated in their commitments under international humanitarian law, including the Convention on the Rights of the Child (See: United Nations General Assembly Resolution A/RES/44/25). Every child and every family/parent/caregiver is entitled to a life free from violence and fear, and it is the shared duty of the global community to provide that right.
​2) We call on the international community to ensure that early childhood development (ECD) services and the components of nurturing care are central to any enduring solutions. 
Through evidence-based science and practice, ECD services and nurturing care have been proven to disrupt cycles of violence, build strong foundations for sustainable development and social cohesion, and promote peaceful and safe societies (Donaldson et al, 2018; Hein, 2023) (See: United Nations General Assembly Resolution A/RES/53/243, the Declaration and Programme of Action on a Culture of Peace, which serves as the universal mandate for the international community to promote a culture of peace and non-violence).
---
The following organizations support this call: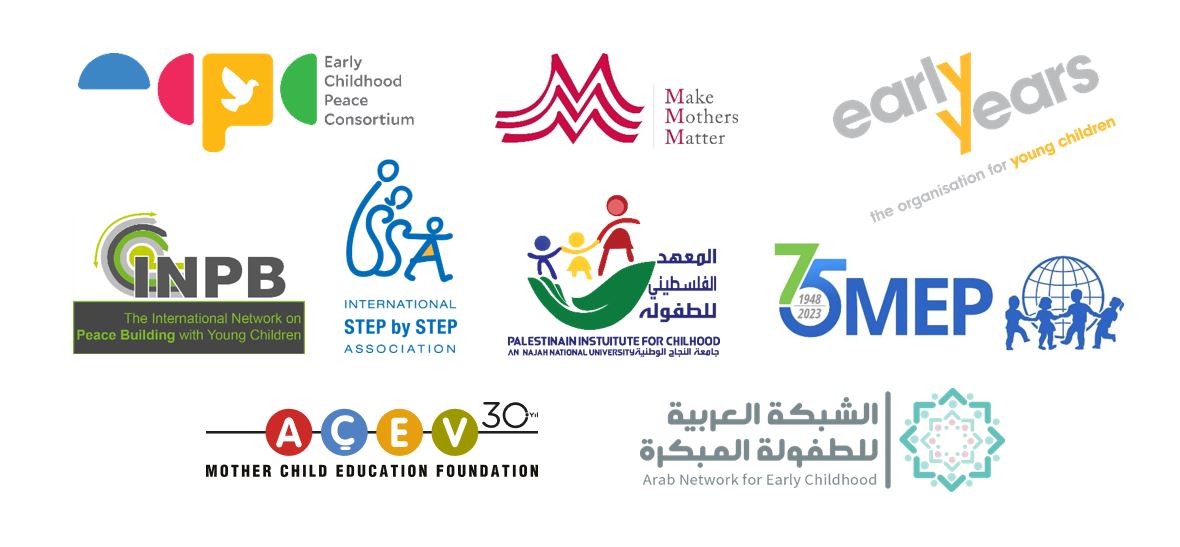 ---
The following individuals support this call:
J. Lawrence Aber, Ph.D.—Willner Family Professor of Psychology and Public Policy and University Professor, New York University
Mohammed Abu-Nimer, Ph.D.—Professor Chair of Said Abdul Aziz for Peace and Conflict Resolution; Salam: Institute for Peace and Justice, President
Maria Pia Belloni, Ph.D.—UN Representative for World Organization for Early Childhood Education(OMEP); Co-chair, Subcommittee on Children in Migration, NGO Committee on Migration
Theresa Betancourt, Sc.D., M.A.—Salem Professor and Director of the Research Program on Children and Adversity, Boston College School of Social Work
Professor Ernesto Caffo, M.D.—President of Foundation Child and Senior Professor of Child and Adolescent Psychiatry at the University of Modena and Reggio Emilia  
Ambassador Anwarul K. Chowdhury—Member, Executive Committee of the Early Childhood Peace Consortium (ECPC)
Sascha Hein, Ph.D.—Professor of Education and Psychology, Free University of Berlin
James F. Leckman, M.D., Ph.D.—Neison Harris Professor of Child Psychiatry, Pediatrics, and Psychology, Yale University
Ilham Nasser, Ph.D.—Senior Education Advisor, Creative Associates International
Catherine Panter-Brick, D.Phil.—Professor of Anthropology, Health, and Global Affairs, Yale University
Gabriela Pavarini, Ph.D.—Research Fellow, Ethox Centre, Oxford Population Health, University of Oxford
Phuong Pham, Ph.D., M.P.H.—Director of Education, Harvard Humanitarian Initiative
L. Angelica Ponguta, MPH, Ph.D.—Research Scientist, Child Study Center, Yale School of Medicine
Kyle D. Pruett, M.D.—Clinical Professor of Psychiatry, Yale School of Medicine, Yale Child Study Center
Joanna Rubinstein, D.D.S., Ph.D.—Council Member, U.N. Sustainable Development Solutions Network; Former President and CEO, Childhood USA; Former Commissioner, UN Broadband Commission
Rima Salah, Ph.D.—Chair, Early Childhood Peace Consortium (ECPC); Former Assistant Secretary-General of the United Nations; Assistant Clinical Professor, Yale Child Study Center
Patrick Vinck, Ph.D.—Research Director of the Harvard Humanitarian Initiative
Yanki Yazgan, M.D.—Child Psychiatrist, Istanbul, and Adjunct Assistant Professor, Yale Child Study Center
Hirokazu Yoshikawa, Ph.D.—Courtney Sale Ross Professor of Globalization and Education and University Professor
*Affiliations are listed for identification purposes only.
**Endorsement by members of the Early Childhood Peace Consortium does not necessarily reflect the views of the organizations/universities with which they are affiliated.
---
About the ECPC
The ECPC is a global consortium of United Nations agencies, Non-Governmental Organizations, academia, practitioners, and the private sector focused on sharing scientific and practice-based evidence on how investment in early childhood development (ECD) can contribute to sustainable peace, social cohesion, and social justice. We recognize that investing in ECD is a powerful and cost-effective strategy for reducing violence, poverty, and exclusion and for building peaceful societies.