► RESOURCE HUB. The ECPC joins with ECDAN and other ECD global networks in calling for emergency response and humanitarian action for vulnerable children and families in Ukraine and surrounding countries, and beyond. Included in this news report are ECPC member and other agency statements and appeals, and helpful resources for youth, parents, caregivers, clinicians and more.

Read this new policy brief that lays out the evidence showing that men as fathers can champion social change to raise children with a disposition toward peace, equity, and social inclusion.

Read the ECPC publication, "Contributions of ECD programming to sustainable peace & development" that exemplifies the role of early childhood development (ECD) in supporting the achievement of the Sustainable Development Goals (SDGs), in particular, Goal 16.

Read the interactive ECPC Global Call to Action in Response to COVID-19 for Children in Fragile and Conflict Affected Settings: The Promise of Early Childhood Development. Share widely among your colleagues, networks, local policymakers and decision makers, and more. Available in Arabic, French and Spanish.

From Sesame Street to the front lines of evidence-based science and practice, comes real hope for building more peaceful societies using early childhood development strategies. A global team of 25 ECPC affiliated experts reveal a proven theory of change and sound a global call to action in this new 14-part video series.
Welcome
Welcome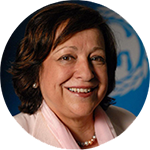 WELCOME!
Update Required
To play the media you will need to either update your browser to a recent version or update your
Flash plugin
.
"It is my pleasure to welcome you to the Early Childhood Peace Consortium website. The Consortium was launched on September 2013 at UNICEF headquarters. This is to bring the contribution of science on early childhood development as a path to peace to the international community debate on peacebuilding. It established a network and a unified group of stakeholders around the goal of reducing and preventing violence against children, recognizing the power of investing in the early years to build peaceful societies. The ECPC is founded on the idea that the global community must address the root causes of violence and conflict and that families and children can be agents of change for peace. Join us to build an inclusive movement for peace, social justice and prevention of violence through using early childhood development strategies that enable the world community to advocate peace, security and sustainable development. This is an online resource to help you build with 'blocks of peace' for the children of the world, and I thank you."
OUR MISSION ~ The promise of the ECPC is to join forces with the international community by creating a global movement to build more peaceful homes and societies, drawing on the experience of early childhood development and the transformative power of children and families, pillared by science- and practice-based evidence.
ECPC Podcast series "Pathways to Peace"