♪ SING ALONG WITH US ♪ The ECPC premiers its new Anthem and song for hope "Seeds of Peace". Performed at UNGA-78 at UNICEF House in NYC on 28 Sept 2023. Featuring ECPC Co-founder and former Yale Whiffenpoof tenor vocalist Kyle D. Pruett, and the celebrated Yale School of Music's All-City Children's Choir from the New Haven Public Schools. 

Watch the video recording of this high-level UNGA session featuring eminent speakers who demonstrate by science and practice the importance of investing in Early Childhood Development as pathways to sustainable peace. Hear them advocate for the elevation of young children and families on the United Nations' New Agenda for Peace. 

"Hear our stories!" See the video recording of this lively intergenerational conversation on the power of youth activism 

and how best to engage the leaders of tomorrow!  Featuring eminent youth advocates from Norway, Romania, Trinidad/Tobago, and USA. Hosted 

by ECPC members Dr. Kyle D. Pruett (Yale), Kyle King (Yale '24), and 

Aditi Shrikhande (UNICEF). 

Can how we raise our children lead to a more peaceful world? Science says that Early Childhood Development (ECD) is a vital opportunity to promote a Culture of Peace, building a strong foundation for Resilience, Social Justice, and Social Cohesion. Meet the discussion panelists!  Watch the video recording of the LIVE hybrid launch event!

Read the ECPC publication, "Contributions of ECD programming to sustainable peace & development" that exemplifies the role of early childhood development (ECD) in supporting the achievement of the Sustainable Development Goals (SDGs), in particular, Goal 16.
Welcome
Welcome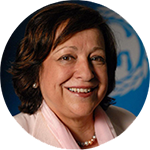 WELCOME!
Update Required
To play the media you will need to either update your browser to a recent version or update your
Flash plugin
.
"It is my pleasure to welcome you to the Early Childhood Peace Consortium website. The Consortium was launched on September 2013 at UNICEF headquarters. This is to bring the contribution of science on early childhood development as a path to peace to the international community debate on peacebuilding. It established a network and a unified group of stakeholders around the goal of reducing and preventing violence against children, recognizing the power of investing in the early years to build peaceful societies. The ECPC is founded on the idea that the global community must address the root causes of violence and conflict and that families and children can be agents of change for peace. Join us to build an inclusive movement for peace, social justice and prevention of violence through using early childhood development strategies that enable the world community to advocate peace, security and sustainable development. This is an online resource to help you build with 'blocks of peace' for the children of the world, and I thank you."
OUR MISSION ~ The promise of the ECPC is to join forces with the international community by creating a global movement to build more peaceful homes and societies, drawing on the experience of early childhood development and the transformative power of children and families, pillared by science- and practice-based evidence.
ECPC Podcast series "Pathways to Peace"