---
By invitation and with gratitude to Director of the Office for UN Relations - NY  Women's Federation for World Peace, International (WEWPI) Merly Christina Barlaan, ECPC Chair Dr. Rima Salah gave the keynote address at the UN Dream Virtual Forum on the theme "The UN Dream: Creating an environment where girls can be girls, not brides." This event commemorated the 77th anniversary of the United Nations Day that coincided with the 30th anniversary of WFWPI. (1:43:46 / ENG)
►WATCH Dr. Salah's keynote address (time mark 24:06).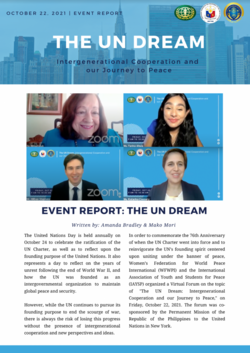 UN Dream Event Report
Written by: Amanda Bradley & Mako Mori
"This forum was created to bring together representatives from the elder and younger generations, where inspiration and wisdom can be exchanged, as challenges and hopes are discussed in the UN's dream for peace."
READ the downloadable report►.
---
About WFWPI
WFWPI aims to reflect on the founding purpose of the United Nations and explore hopeful solutions to the issues of child marriage and the effect climate change has on the issue as we commemorate the 76th anniversary of the day the UN Charter went into effect. Thus, in its quest to find sustainable and impactful solutions to address the problems of climate change and child marriages, WFWPI believes that communities can create transformative and enabling environments for families to address the issue of child marriage through integrating such discussion into environmental adaptation initiatives. In partnership with governments and civil society organizations, we strive to create a generation of leaders who can inspire transformation in their communities through championing the issues of girls' rights and the environment. 
The forum was co-

sponsored by the Permanent Mission of the 

Republic of the Philippines to the United 

Nations in New York.