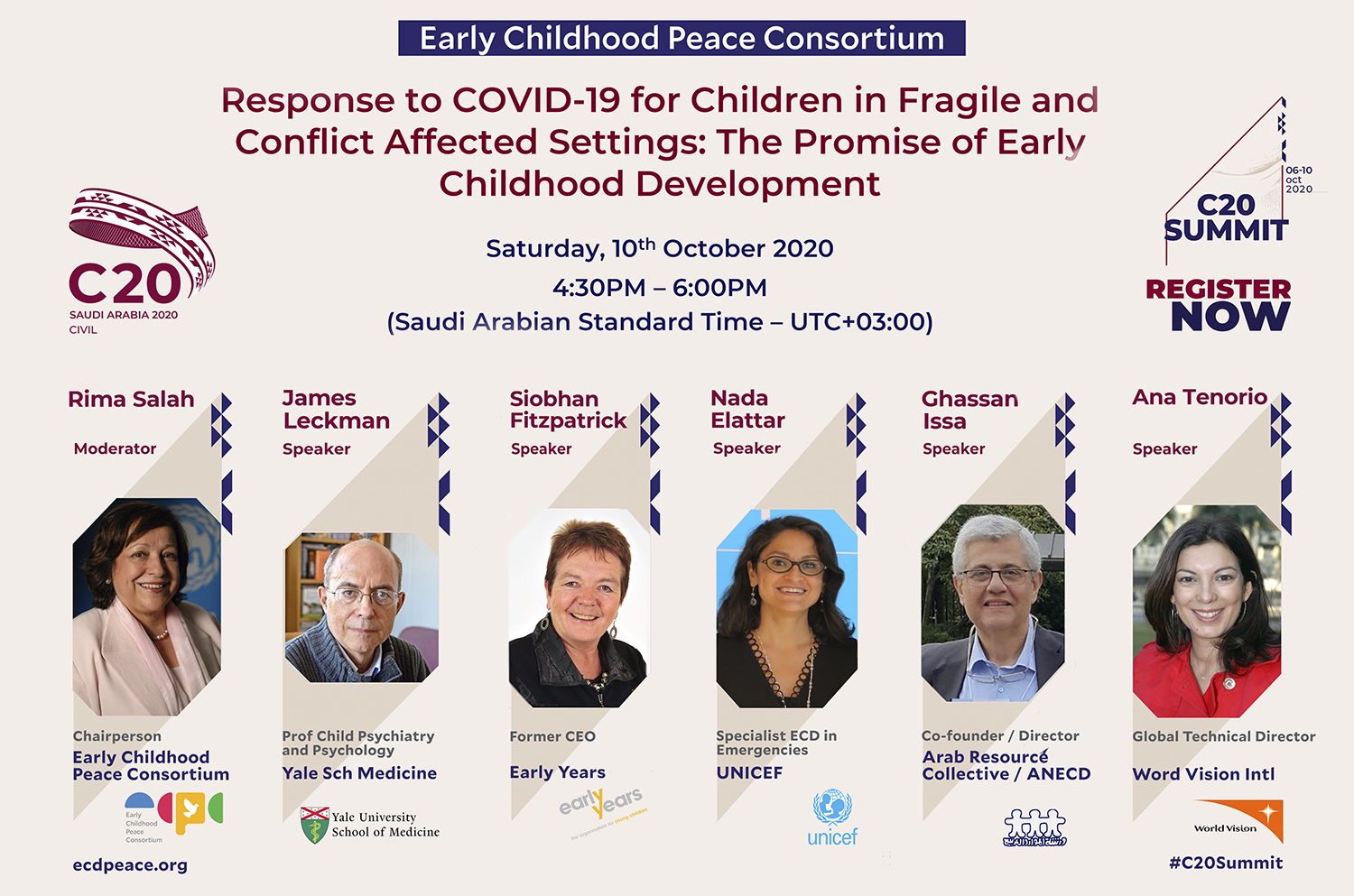 ECPC panel session flyer
---
C20 Summit 2020
On Saturday October 10,  international experts from the Early Childhood Peace Consortium (ECPC) discussed early childhood development (ECD) strategies in relation to COVID-19 at this year's Civil Society 20 (C20)'s virtual annual summit. The C20 predicted that "This year's summit is sure to be the biggest virtual gather of thousands of civil society leaders and change makers in the G20 process".
ECPC Panel Session | COVID-19 Response & Recovery 
►Watch the recording of the ECPC 90 minute panel session, broadcast LIVE on 10 October 2020.
---
Promising ECD program development, evaluation and implementation
Joining Drs. Salah and Leckman on the C20 panel was a prominent group of ECPC international professionals in the field of ECD that focus on 1) program development, evaluation and implementation in the context of peacebuilding, 2) on-the-ground intervention programs in humanitarian situations, and 3) and the right to education for all, including the most vulnerable. 
C20 video appearances include:
Rima Salah, PhD (0:01)—ECPC Chairperson, Assistant Clinical Professor in the Yale Child Study Center, former Assistant Secretary-General of the United Nations, former Deputy Executive Director of UNICEF, and former member of the United Nations High-Level Independent Panel on Peace Operations
James F. Leckman, MD, PhD (13:54)—Neison Harris Professor of Child Psychiatry, Psychiatry, Pediatrics and Psychology in the Yale Child Study Center
Siobhán Fitzpatrick, CBE (30:34)—Former Chief Executive Officer, Early Years - the organisation for young children (N. Ireland)
Nada Elattar, MPH (41:20)—Early Childhood Development Specialist - Emergencies, UNICEF
Ghassan Issa, MD (52:32)—Co-founder and the General Coordinator of an Arab regional non-governmental organization, Director of ANECD—the Arab Network for Early Childhood Development (Lebanon)
Ana Tenorio, MA, MS (1:02:46)—Global Technical Director, Education, TSO, World Vision International (Representing ECPC Advisory Board member, Dilshan Manoj Annaraj, World Vision International)
Conclusion (1:14:44)
As one of the Group of Twenty's (
G20
) eight official engagement groups, the 
C20
 has a diverse coalition of civil leaders spanning across 80 countries who play a prominent role in fostering social and economic justice across the international community and holding our world leaders accountable for protecting the rights of all people. This year's summit, hosted by 
C20 Saudi Arabia 2020
, drew 40,000 participants and focused on 
5 core themes
:
The world's response and recovery to COVID-19,
Economic and social justice,
Sustainable development,
Protection of human rights as well as the accountability, and
transparency of governments across the world. 
About the ECPC
The 
Early Childhood Peace Consortium (ECPC)
 is a global  movement of United Nations agencies, Non-Governmental Organizations, academia, practitioners and the private sector focused on sharing scientific and practice-based evidence on how investment in early childhood development (ECD) can contribute to sustainable peace, social cohesion and social justice. We recognize that investing in ECD is a powerful and cost-effective strategy for reducing violence, poverty and exclusion and for building peaceful societies.