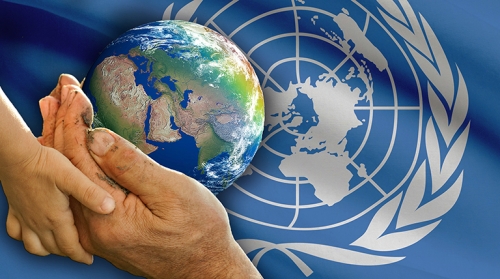 NEW YORK, NY—Prominent ECPC member, H.E. Ambassador Anwarul K. Chowdhury led the main panel discussion at the 2019 U.N. High-Level Forum on The Culture of Peace, held on September 13, 2019. The session, "The Culture of Peace: Empowering and Transforming Humanity", featured nine high-level speakers who addressed five essential components that characterize the ongoing global effort to advance The Culture of Peace: education that fosters free thought, democracy that embraces diversity, youth empowerment, refugee and women`s rights. Together, they explored The Culture of Peace concept as one that unites peoples of the world while also promoting diversity and respecting differences. They unanimously agreed  that the times in which we live demand a heightened call to action. 
---
UN Web TV | United Nations High Level Forum on The Culture of Peace - 20th Anniversary Convened by the President of the 73rd Session of the General Assembly
Keynote: His Royal Majesty Otumfuo Osei Tutu II, Asantehene (King, Ashanti people of Ghana)
Solidarity Message: H.E. Leymah Gbowee, Nobel Peace Prize laureate, 2011
---
UN Web TV | Panel Discussion - The Culture of Peace: Empowering and Transforming Humanity
▼Highlights from the presentations made by the nine high-level panelists are captured below.
PANELISTS
Chair and moderator
H.E. Ambassador Anwarul Karim Chowdhury is Founder of the Global Movement for The Culture of Peace, Permanent Representative of Bangladesh (1996-2001), and former Under-Secretary-General and High Representative of the United Nations (2002-2007).
Panelists
H.E. Miguel A. Moratinos, High Representative for the United Nations Alliance of Civilizations
H.E. Nada Al-Nashif, UNESCO Assistant Director-General for Social and Human Sciences
H.E. Gabriela Cuevas Barron, President of the Inter-Parliamentary Union
H.E. Jacqueline O'Neill, Canada's Ambassador for Women, Peace and Security 
H.E. Mrs. Adela Raz, Permanent Representative of Afghanistan to the United Nations
Discussant
H.E. Francisco Rojas Aravena, Rector, University for Peace
Special comments
H.E. Federico Mayor Zaragoza, Chairman of the Foundation for a Culture of Peace and former UNESCO Director-General
Closing remarks
H.E. Ms. María Fernanda Espinosa Garcés, President of the 73rd Session of the United Nations General Assembly
---
HIGHLIGHTS
Talk 1. 20 Years of Movement Towards A Culture of Peace
Education systems that not only prepare students to lead fulfilling lives but also to become responsible citizens of the world  
Women as crucial to maintaining development and peace
Empowering and recruiting children and youth into The Culture of Peace
He then spoke of peace as something that is inside all of us, somethings that needs to be nurtured and promoted by all to flourish. He reflected on Nobel Peace laureate Leymah Gbowee`s speech on the importance of solidarity, delivered that morning before the General Assembly and echoed the role of peace in creating happy, satisfied societies.
Early childhood development advances The Culture of Peace
---
Talk 2. Embracing a Plan of Action that Establishes Peace over Security
In his opening remarks, H.E. Miguel A. Moratinos, High Representative for the United Nations Alliance of Civilizations, expressed gratitude to H.E. Federico Mayor Zaragoza, former Director-General of UNESCO who founded The Culture of Peace program. He condemned the violent and terrorist attacks happening globally against different religious groups including Jewish, Christian and Muslim people, and the surge in hatred and xenophobia. He offered a plan of action that would follow five principles:
Respect for all
Responsibility to build bridges of communication and understanding
Diversity and accepting differences
Dialogue as a tool for better communication and engagement with one another
Solidarity to support one another, especially at times of sorrow and trouble
"Since wars begin in the minds of men and women, it is in the minds of men and women that the defenses of peace must be constructed. UNESCO has therefore been entrusted since the beginning with building a peace which is more than absence of conflict and violence." 
---
Talk 4. Parliaments as Hubs of Plurality, Social Justice, Representation and Peace
Senator Gabriela Cuevas Barron, President of the Inter-Parliamentary Union, addressed the audience in Spanish and spoke of the importance of parliaments for The Culture of Peace. She pointed out that the political plurality in a parliament and diversity in gender, religion and ethnicity allow different opinions to be expressed. She underlined that understanding such plurality enriches decisions of societies and makes them fully inclusive. As a contrast, she spoke of hateful voices that seek to incite xenophobia, supremacist propaganda and make them into something politically acceptable or even politically beneficial. She emphasized that members of parliaments and politicians need to learn from mistakes made during the last century and prioritize tolerance and democracy to move towards peace and development. 
Senator Barron spoke of a huge responsibility on the part of parliaments to set an example by using inclusive dialogue. She then pointed out the gender and age inequality in parliaments: 
She criticized powerful leaders who claim there could be national solutions to global and regional problems to win elections. She underscored the need for multi-laterality and defending plural representative spaces for empowering leadership and transforming the planet. She reminded the audience that 2030 is the deadline of the Development Agenda and concluded, 
---
Talk 5. Culture of Peace: Tackling Racial Injustices and Gender Biases
---
Talk 6. The Importance of Women, Youth and Freedom of Press in Conflict Zones
Ambassador Raz pointed out that freedom of the press is important to establish a culture of peace. She continued,
Ambassador Raz made a distinction between culture of peace and peace and pointed out the role of state-sponsored terrorism in creating conflict. She gave the example of a temporary ceasefire that enabled thousands of Taliban soldiers to come back into the cities without any violence and showed the tolerance that exists in the Afghan society.
---
Talk 7. Crucial Role Education Needs to Play in Raising Agents for Peace
He concluded by expressing gratitude for Federico Mayor and quoted him, 
---
Talk 8. Investing in Human Rights, Education and Dignity over Military Spending
He continued to emphasize the five priorities for human beings that should be more important than any gross national product: food, water, health, environmental care and delegation. He pointed out that education is the key to determine such priorities. He explained that real education is different from specializing in a field: 
Dr. Mayor reiterated the importance of concepts mentioned by previous speakers such as multilateralism, diversity and gender equality. He recounted a meeting he had with Nelson Mandela and quoted him on the relationship between women and peace: 
He concluded by emphasizing the need for reason and dialogue for The Culture of Peace.
---
9. Conclusion: Building Bridges of Peace and Solidarity
Meet María Fernanda Espinosa Garcés, President-elect of the 73rd session of the UN General Assembly (UNGA)
---
Get the facts
► Be informed. Learn more about, Realizing The Culture of Peace.
---
Follow us
► Stay connected! Follow the Early Childhood Peace Consortium (ECPC) on Facebook, Twitter, iTunes and YouTube.
---
Submitted by Bekir B. Artukoglu, MD on 17 December 2019.