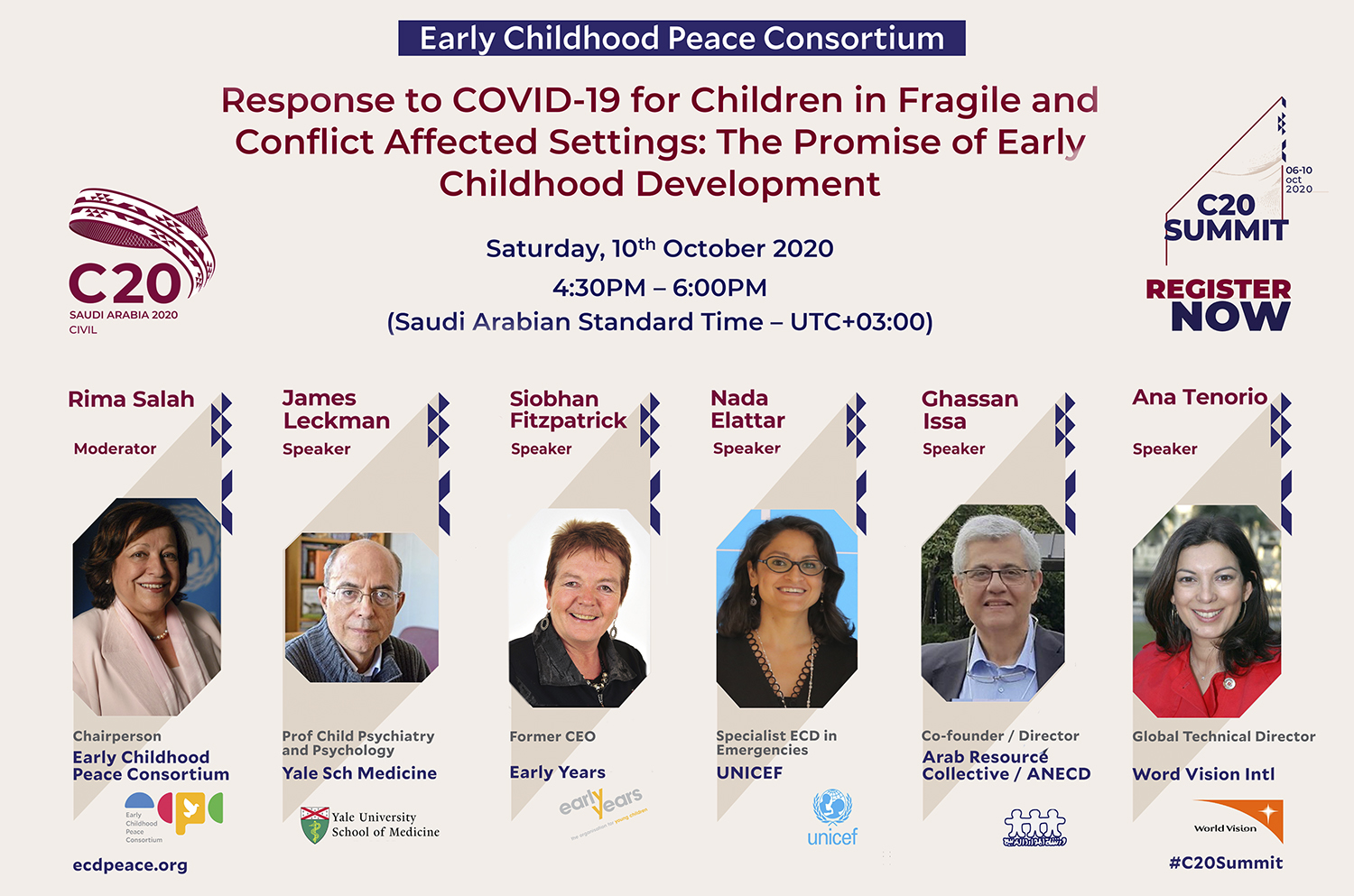 C20 Summit 2020
On Saturday October 10,  international experts from the Early Childhood Peace Consortium (ECPC) discussed early childhood development (ECD) strategies in relation to COVID-19 at this year's Civil Society 20 (C20)'s virtual annual summit. The C20 predicted that "This year's summit is sure to be the biggest virtual gather of thousands of civil society leaders and change makers in the G20 process".
ECPC Panel Session | COVID-19 Response & Recovery 
►Watch the recording of the ECPC 90 minute panel session as broadcast LIVE on Vimeo on 10 October 2020.
About
COVID-19 has impacted the world in ways that were unimaginable just one year ago. The ECPCs response to this pandemic-induced humanitarian crisis will address the invisible and long-lasting harmful effects that COVID-19 can have on young children, and why investing in early childhood care and education social, emotional, physical, and cognitive development. The panel spotlighted the
 COVID-19's short- and long-term impact on the estimated 250 million children living among conflict, war, and displacement across the globe. These children are most often overlooked, making it our responsibility and duty to ensure that COVID-19 has a minimal permanent impact on them.
In this session, the ECPC brought attention to its Global call to action in response to COVID-19, which "entreats governments, policy makers and community leaders to safeguard the increasingly undermined rights of young children living in fragile contexts and to prioritise investment in their survival, development and protection". In the document's cover letter, ECPC Chairperson, Rima Salah conveys that "Early childhood development strategies and services are now more important than ever, to mitigate the immediate and long-term impact of the COVID-19 crisis and its indirect consequences on the most vulnerable young children and families." She further states, "Supporting and empowering them today can not only interrupt cycles of racial injustice and inequality, but build a strong foundation for peace and security, resilience, social justice and social cohesion".  She underscores, "The ECPC global call to action is to ensure young children are not forgotten amidst this pandemic and to invest in their – and our shared – futures."
Science heralds a new era
Panel session moderator and presenter on the overview of this critical situation is 
Rima Salah, PhD
, ECPC Chairperson, Assistant Clinical Professor in the Yale Child Study Center, former Assistant Secretary-General of the United Nations, former Deputy Executive Director of UNICEF, and former member of the United Nations High-Level Independent Panel on Peace Operations. According to Professor Salah, the COVID-19 outbreak and containment measures exacerbate existing crises and further violate vulnerable children's rights. The pandemic not only severely affects young children's physical, mental health and social and emotional development, but their safety, eco¬nomic security, access to education, play, recreational activities and more (
United Nations
). 
Professor Salah upholds "The science heralds a new era, asserting that ECD is a vital opportunity for building a sustainable future fit for the world's children and empowering them through promoting The Culture of Peace, as called for by the United Nations" (
UN Resolution A/RES/74/21
).
What does science teach us on the importance of ECD in the context of COVID? 
Dr. James F. Leckman
, Neison Harris Professor of Child Psychiatry, Psychiatry, Pediatrics and Psychology, a distinguished 40-year faculty member in the Yale Child Study Center who has ongoing ECD research projects across the Middle East, South East Asia, Latin America and Europe, presented on the latest evidence-based science. According to Professor Leckman, there is no question that there are and will be many life-threatening adverse consequences of the pandemic for millions of children across the globe, especially the most vulnerable. "Children are, in many ways, the hidden victims of the pandemic."
The good news, he says, is that
developmental neuroscience has led to a revolutionary shift
in assessing the interplay between genetic alterations in the developing brain and early life experiences, both positive and negative. The neuroscience and other multiple disciplines, such as epigenetics, psychology, and economics, indicate how ECD services can prompt members of high-risk groups to rebuild trust, re-connect, and develop long-lasting resilience.
Promising ECD program development, evaluation and implementation
Joining Drs. Salah and Leckman on the C20 panel was a prominent group of ECPC international professionals in the field of ECD that focus on 1) program development, evaluation and implementation in the context of peacebuilding, 2) on-the-ground intervention programs in humanitarian situations, and 3) and the right to education for all, including the most vulnerable. 
►Read the speakers' biographies.
---
About the C20
As one of the Group of Twenty's (G20) eight official engagement groups, the C20 has a diverse coalition of civil leaders spanning across 80 countries who play a prominent role in fostering social and economic justice across the international community and holding our world leaders accountable for protecting the rights of all people. This year's summit, hosted by Saudi Arabia, is expected to have more than 4,000 participants and will focus on 5 core themes: the world's response and recovery to COVID-19, economic and social justice, sustainable development, protection of human rights as well as the accountability and transparency of governments across the world. 
About the ECPC
The Early Childhood Peace Consortium (ECPC) is a global  movement of United Nations agencies, Non-Governmental Organizations, academia, practitioners and the private sector focused on sharing scientific and practice-based evidence on how investment in early childhood development (ECD) can contribute to sustainable peace, social cohesion and social justice. We recognize that investing in ECD is a powerful and cost-effective strategy for reducing violence, poverty and exclusion and for building peaceful societies.
Hashtags
#C20Summit  #ECD4peace  #FutureChild
---
► Follow us
Hashtags
#ECD4peace  #FutureChild