You are here
Home
»
New Directions in Child & Adolescent Development 2018 | Celebrating the transformative power of children & families to build a more peaceful world
New Directions in Child & Adolescent Development 2018 | Celebrating the transformative power of children & families to build a more peaceful world
Editorial introduction
Special issue, Towards a more peaceful world: The promise of early child development programmes in journal, New Directions in Child and Adolescent Development (NDCAD), features an editorial introduction, four review articles and two commentaries from authoritative leaders in the field that highlight how far this emerging field has come over the past five decades. "Further effort is needed to refine, adapt, and implement—in a sustainable fashion—responsive parenting and nurturing care programs of proven value across the globe," remarks Dr. James F. Leckman, faculty at the Yale Child Study Center,  and Pia Rebello Britto,  senior advisor for the Early Child Development (ECD) Program at UNICEF HQ. In their editorial, they also remind us that "… even though global attention to early childhood development has been increasing, more than 40% of children under 5 years of age in low- and middle-income countries (LIMCs) are not achieving their developmental potential."
Other notable authors include Professors Linda Richter from the University of the Witwatersrand, South Africa, and Stephen Lye from the University of Toronto who led the Steering Committee that organized and published in The Lancet, a series of three influential and highly cited review articles in January 2017 that highlighted the new scientific evidence for the promise of ECD interventions. Importantly, this The Lancet series, Advancing Early Childhood Development: From Science to Scale also proposes pathways for working with policy-makers to scale up early childhood programs in fragile contexts.
The review articles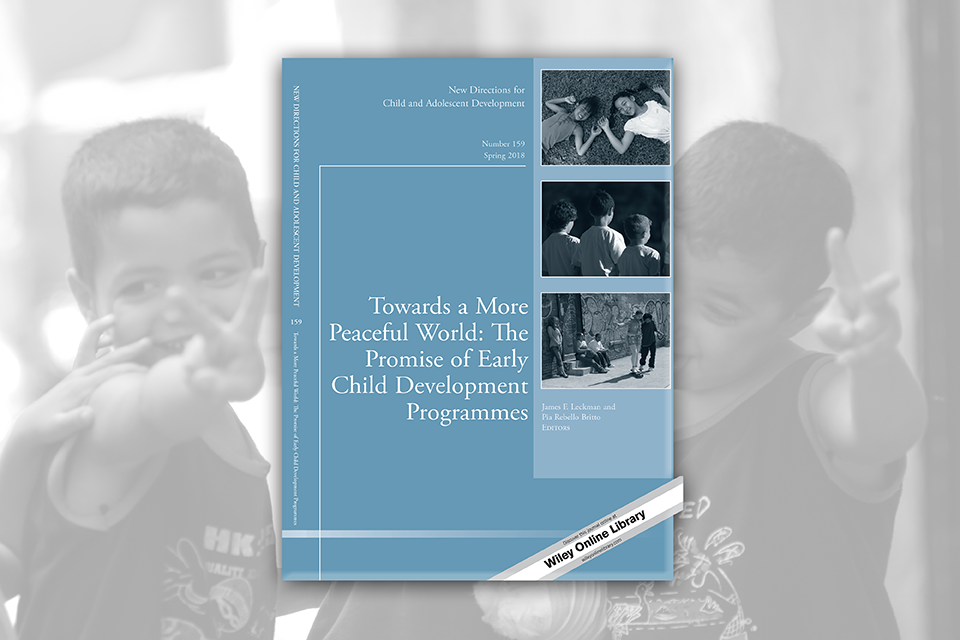 In this NDCAD special issue, the first two of four review articles largely follow a developmental progression moving from the importance of the first 1,000 days of life (Richter, Lye, & Proulx), to the positive impact of preschool programs in low- and middle-income countries (LIMCs) that was authored by colleagues Yvette Effevbera and Dana McCoy at Harvard University, Alice Wuermli at New York University, and Theresa Betancourt who recently recollected from Harvard to Boston College.
The third review focuses on the timely topic of the role of the media in helping children gain an empathetic understanding of the "other" as a path to building a more peaceful world. Authors, June Lee, Charlotte Cole, and Abigail Bucuvalasy, have had close ties with Sesame Workshop, and Yasemin Sirali with the Mother–Child Education Program (Anne Çocuk Eğitim Vakfı, AÇEV) that is based in Turkey.    
The fourth review focuses on assessing interventions that are aimed to empower adolescents and young adults to help provide quality early childhood care and education to their communities in a sustainable fashion. Authors are YCSC research scientists Angelica Ponguta and Chin Reyes, Muneera Rasheed who is based at the Aga Khan University in Pakistan, and Aisha K. Yousafzai who is on the faculty at Harvard.
The commentaries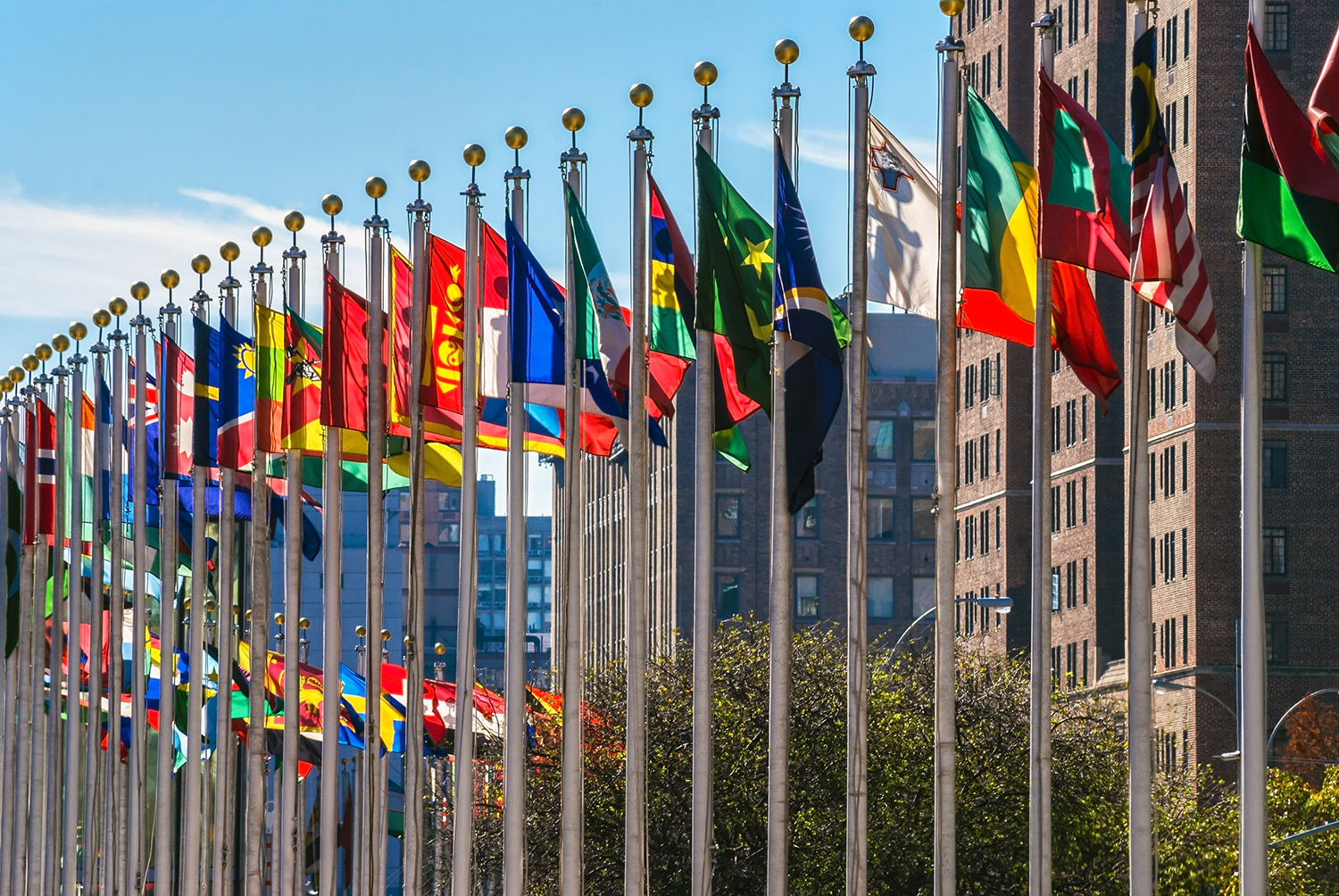 Commentary: "The refugee crisis and the rights of children: Perspectives on community-based resettlement programs" (Alipui & Gerke, 2018)

Commentary: "Global citizenship and the role of the United Nations: The promise of the Early Childhood Peace Consortium" (Salah, 2018)
Both of the final commentaries are by Yale professors Nicholas Alipui and Rima Salah who spent a good deal of their professional careers working for UNICEF. Authors of the first commentary (Alipui & Gerke) "… aim is to bring attention to the particular difficulties child refugees must endure and to highlight those practices and approaches that are helping child refugees reach their full potential." They report that "… early childhood development activities in emergency contexts have seen remarkable improvements with critical benefits for the development of the youngest child refugee".
The second commentary (Salah) "… argues that we have every opportunity to make a transformative shift and raise the voice of science to join the voice of "we the peoples…" She underscores that "… the voice of "we the peoples" to stop war and violence in the world, promoting "a Culture of Peace," adhering to the principles of freedom, justice, tolerance, and advancing the concept of Global Citizenship", is clear.
The Early Childhood Peace Consortium (ECPC)
Indeed, the Yale team is honored that Salah is the current chairperson of the Early Childhood Peace Consortium's Executive Committee (ECPC). The ECPC is a multi-sectorial partnership that was launched in 2013 at United Nations Headquarters. Consistent with the theme of this special issue, the ECPC was founded on the idea that the global community must address the root causes of violence and conflict, and that children and families can be agents of change for peace. Its mission is to support a global movement for peace, social justice, and prevention of violence through using evidence-informed strategies to enable the world community to advance peace, security and sustainable development. As pointed out by Salah, "There is no better time than now to unite our strengths to erect the building blocks of a peaceful future for all children. Let us raise children to be global citizens and drivers of the culture of peace!" This will be essential if we are to meet the 2030 Sustainable Development Goals.
Conclusion
In conclusion, it is important to mention that this special issue of NDCAD is dedicated to Professor Çiğdem Kağıtçıbaşı who passed away in the Fall of 2017 after a distinguished career as developmental psychologist. Kağıtçıbaşı's fame rests in her work with Sevda Bekman and Diane Sunar at Boğaziçi University (Turkey) in the early 1980s in developing group-based curricula for early mother–child education programs that were then implemented and refined in poor districts of Istanbul and rural communities in Turkey. This effort, in turn, provided the inspiration and foundation for the Mother–Child Education Program (AÇEV) that is based in Turkey, but is implementing parent-child ECD programs across the globe.
Of note, their contacts with Leckman led in turn to the convening of more than 40 international experts in Frankfurt, Germany for the 15th Ernst Strüngmann Forum and the publication by the MIT Press of "Pathways to peace: The transformative power of children and families" that was edited by  Leckman and Salah, as well as Professor Catherine Panter-Brick, who currently serves as the Head of Morse College at Yale. For those interested in learning more about the promise of ECD program interventions, this recommended volume sets the stage for the ECPC and this NDCAD issue. 
---
New Directions for Child and Adolescent Development (NDCAD), edited by Elena L. Grigorenko, is a quarterly thematic multidisciplinary journal dedicated to new perspective and scholarship in the field of child and adolescent development. Each issue/volume in the series is a completely self-contained, fully indexed edited collection of articles focusing on one specific topic. 
---
Contributors: James F. Leckman, M.D., Ph.D., serves as ECPC Executive Committee Member. He is Neison Harris Professor in the Child Study Center and Professor of Pediatrics at Yale University. 
Pia Rebello Britto, Ph.D., serves as ECPC Vice Chair. She is Global Chief and Senior Advisor, Early Childhood Development, UNICEF, New York Headquarters.  She is Adjunct Faculty in the Child Study Center at the Yale School of Medicine.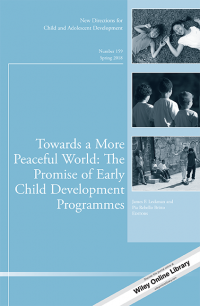 Leckman, J. F., Britto, P.R. (Eds.). (2018). Towards a more peaceful world: The promise of early child development programmes. Special Issue New Directions in Child & Adolescent Development. Vol. 2018(159).