You are here
Home
»
Investing in the foundation of sustainable development: Pathways to scale up for early childhood development
Investing in the foundation of sustainable development: Pathways to scale up for early childhood development
Introduction
Building on long-term benefits of early intervention (Paper 2 of this Series) and increasing commitment to early childhood development (Paper 1 of this Series), scaled up support for the youngest children is essential to improving health, human capital, and wellbeing across the life course. In this third paper, new analyses show that the burden of poor development is higher than estimated, taking into account additional risk factors. National programmes are needed. Greater political prioritisation is core to scale-up, as are policies that afford families time and financial resources to provide nurturing care for young children. Effective and feasible programmes to support early child development are now available. All sectors, particularly education, and social and child protection, must play a role to meet the holistic needs of young children. However, health provides a critical starting point for scaling up, given its reach to pregnant women, families, and young children. Starting at conception, interventions to promote nurturing care can feasibly build on existing health and nutrition services at limited additional cost. Failure to scale up has severe personal and social consequences. Children at elevated risk for compromised development due to stunting and poverty are likely to forgo about a quarter of average adult income per year, and the cost of inaction to gross domestic product can be double what some countries currently spend on health. Services and interventions to support early childhood development are essential to realising the vision of the Sustainable Development Goals.
Global provision of minimum wage (A) and free pre-primary education (B) in 2012
---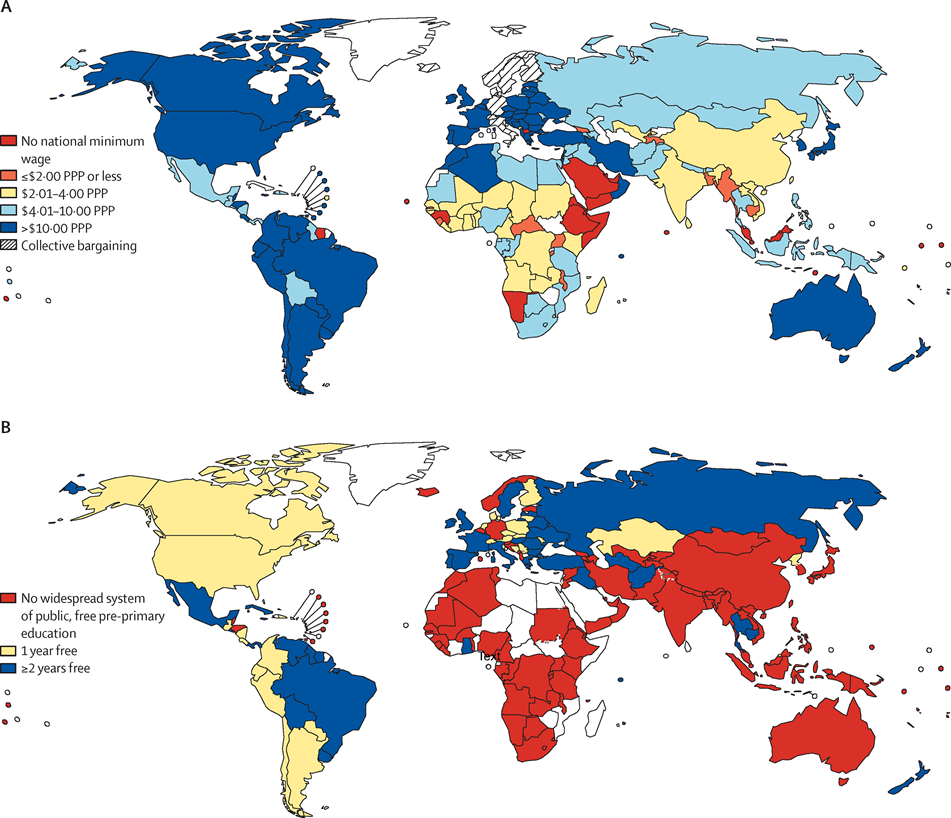 Key messages
The burden of poor child development is currently underestimated because risks to health and wellbeing go beyond stunting and extreme poverty.

Effective interventions for early childhood development are now available and can feasibly be integrated into existing systems in health, education, and social and child protection.

The scale-up of early child development programs rests on political prioritization of efforts to address deep social problems such as poverty, inequality, and social exclusion through interventions starting early in the life course.

Policies that alleviate poverty and buttress family resources create a supportive environment to promote, protect, and support early childhood development at scale.

Health and nutrition services are ideal starting points to scale up interventions for early childhood development. Eff orts to promote nurturing care of young children built onto existing services for maternal and child health and nutrition are affordable.

Societies around the world pay a high price, now and into the future, for not acting to protect children and promote early child development. The 43% of children younger than 5 years of age in low-income and middle-income countries, who are at elevated risk of poor development because of stunting or extreme poverty, are likely to forego about a quarter of average adult income per year. The benefits forfeited at a country level can be up to two times the gross domestic product spent on health.

Services and interventions to support early childhood development are essential to ensuring that everyone reaches their potential over the life course and into the next generation, the vision that is core to the Sustainable Development Goals.
---
Reprinted from The Lancet, Vol 389; Authors: Linda M Richter, Bernadette Daelmans, Joan Lombardi, Jody Heymann, Florencia Lopez Boo, Jere R Behrman, Chunling Lu, Jane E Lucas, Rafael Perez-Escamilla, Tarun Dua, Zulfiqar A Bhutta, Karin Stenberg, Paul Gertler, Gary L Darmstadt; Investing in the foundation of sustainable development: pathways to scale up for early childhood development. Pages 103-118, Copyright (2017), with permission from Elsevier.