You are here
Home
»
ECPC Beirut statement of solidarity
ECPC Beirut statement of solidarity

---
Official ECPC Statement
12 August 2020
The explosion that devastated Beirut on 04 August 2020 has claimed more than 170 lives and injured over 
6,000 people
 of which over 
1,000 are children
. As rescue operations continue, the 
number of casualties is expected to rise. The Early Childhood Peace Consortium (ECPC) shares the grief of the 
people of Lebanon and expresses deep concern for the immediate and long-term impact of this humanitarian crisis on Beirut's families and their young children. The wounds, trauma and instability inflicted by this explosion in a country already facing acute socio-economic difficulties and a health system compromised by the COVID-19 pandemic are severe and indelible, particularly for the most vulnerable communities.
The significant damage to infrastructure caused by the explosion across the city has displaced up to 300,000 people, of which 100,000 are children. Lebanon hosts the highest number of refugees in the world relative to its own population, including 1.5 million Syrian refugees and almost 200,000 Palestinian refugees. The explosion has exacerbated their dire situation, endangering the lives and wellbeing of uprooted families – and more lastingly, the physical and mental health and development of young children.
Amidst the COVID-19 pandemic, health services in Beirut were already overwhelmed before this tragedy, which critically damaged 4 main hospitals and several primary healthcare facilities, including paediatric, maternal and new-born centres. We are profoundly saddened to learn that young children, including new-borns, are among the many casualties of the explosion. 
The ECPC stands in solidarity and collaborates with the United Nations, Office for the Coordination of Humanitarian Affairs (OCHA), UNICEF and all other United Nations agencies and Member States, as well as with Non-Governmental Organizations, Early Childhood Networks, Academia and Civil Society in the response to the humanitarian crisis in Lebanon, to support the families and young children most impacted and traumatized by the explosion. Members of the Consortium stand ready to lend their expertise to relief efforts and offer programmatic support, especially for mental health and psycho-social support to young children and their families. 
As the international community responds to this calamity in Lebanon, the ECPC underscores the importance of early childhood development in building back and recovery. We affirm that multileveled early childhood development strategies and services are critical to mitigate the current and long-term impact of the adversities facing residents of Beirut, particularly the most vulnerable young children and families. As is detailed in the 
ECPC Global Call to Action in response to COVID-19
, safeguarding young children impacted by crisis and prioritizing their survival, development and protection is not only necessary to alleviate suffering and uphold their rights, but can also drive economic recovery and build a strong foundation for peace and security, resilience, social justice and social cohesion.  
---
► If you wish to support the Arab Network for Early Childhood Development's relief efforts in Beirut, please consider donating to GoFundMe for ANECDin addition to sharing this link
https://gf.me/u/yndt8f .
►If you would like additional information or would like to speak with an ECPC representative, please contact us at 
info@ecdpeace.org
.
---
The ECPC is a global movement of United Nations agencies, Non-Governmental Organizations, academia, and practitioners. We demonstrate that investing in early childhood development (ECD) is a powerful and cost-effective strategy for reducing violence, poverty and exclusion and for building resilient and peaceful societies.
Artwork by the daughter of a Lebanese pediatrician conveys hope for children following Beirut Blast. Artist, Rawane Issa tells the story behind its making.
One year on, a long, slow road to recovery for children affected by the Beirut explosions (UNICEF, August 2021).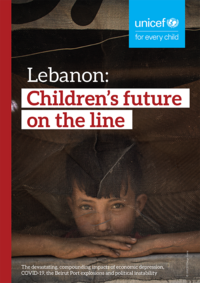 The devastating, compounding impacts of economic depression, COVID-19, the Beirut Port explosions and political instabili (UNICEF, June 2021).