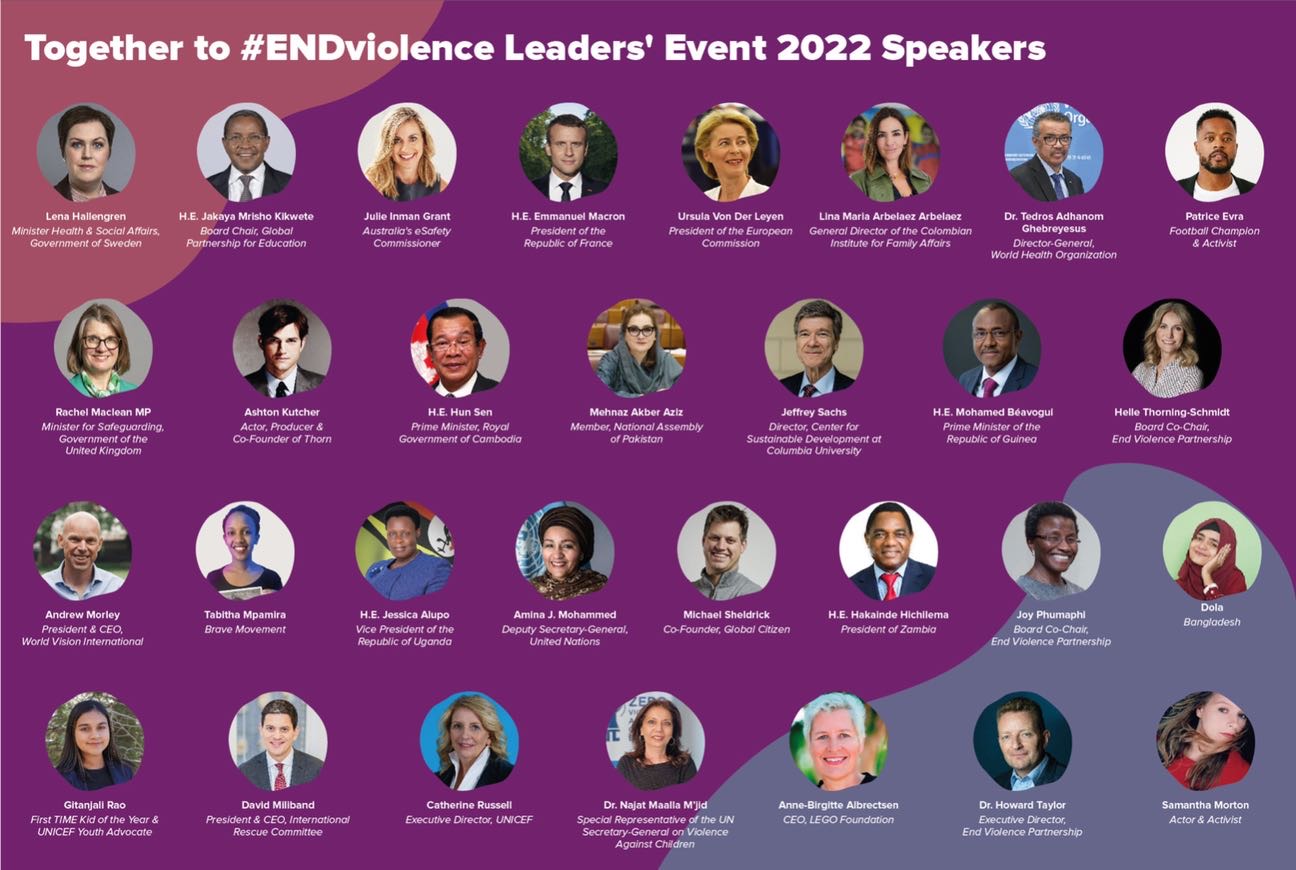 About
With new influential leaders joining the line-up, the event will run for 2.5 hours.
Join us on: 

14 June, 8 am - 10:30 am EST / 2 pm - 4:30 pm CET
The Leaders' Event is a global moment for children at a critical time. It is shaping up to be one of the most diverse and influential groups that has ever come together solely to focus on ending violence against children.
We now have 5 heads of government who will be joined by nearly 40 speakers – children, survivors, celebrities, royalty and leaders from across multiple sectors and continents.
Join to hear them at the event and to engage with over 1,600 registered participants from more than 135 countries working to end violence and achieve the 2030 Agenda. 
Confirmed speakers include:
Heads of states and UN agencies including H.E. Emmanuel Macron, President of the Republic of France, Ursula von der Leyen, President of the European Commission, H.E. Hakainde Hichilema, President of Zambia and Amina J. Mohammed, United Nation Deputy Secretary-General 
Children and youth advocates, including Gitanjali Rao, Young inventor & TIME Kid of the Year 
Powerful advocates from across fields such as Ashton Kutcher speaking on the need to keep kids safe online and his journey to do so, and leading economist Jeffry Sachs addressing the data and smart investments for a safer world for children
Survivors of childhood violence such as Patrice Evra, who will share his experiences of facing adversity and violence in childhood to being the captain of Manchester United and the French National Football teams and leaders from the survivor-led Brave Movement to end childhood sexual violence
And many more!
Join us as we discuss the current global context and place a spotlight on what works and what needs to be done to #ENDviolence against children at home, in schools, communities and online.  
Live translation in French and Spanish will be available.