About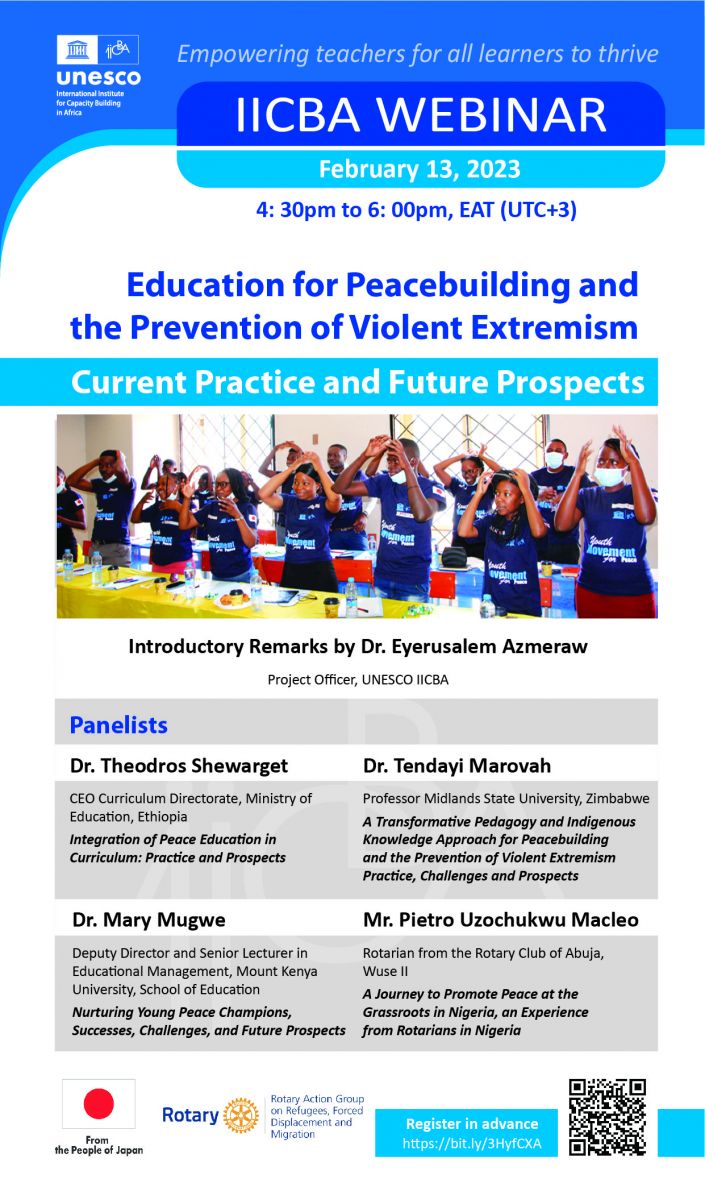 About
You are cordially invited to join a webinar on UNESCO IICBA's "Education for Peace and Prevention of Violence" project. 
Since 2017, UNESCO IICBA has been working to strengthen the capacity of teachers across Africa on the Transformative Pedagogy approach as a fundamental strategy for peace and resilience building. Particularly in 2020, the unprecedented impact of the COVID-19 pandemic demonstrated the heightened need to enhance resilience at regional, national, and community levels in Africa. With a belief that Transformative Pedagogy can equip the population with essential skills to critically analyze context-specific risks and opportunities for peacebuilding and eventually to transform the self and society, IICBA supported 28 African countries using the pedagogical approach over the past 5 years. 
In completing the project, IICBA commissioned an external consulting firm to independently evaluate the project and draw lessons learned from its implementation. Based on the evaluation, IICBA is organizing this webinar to present an overview of IICBA's peace education programme as well as some of the good practices from the participating countries!
*After registering, you will receive a confirmation email containing information about joining the webinar.
Panelists:               
Dr. Thewodros Shewarget, CEO of Curriculum Directorate, Ministry of Education, Ethiopia.  Integration of Peace Education in Curriculum: Practice and prospects
Dr. Tendayi Marovah, Professor, Midlands State University, Zimbabwe.   A Transformative Pedagogy and Indigenous Knowledge Approach for Peacebuilding and the Prevention of Violent Extremism Practice, Challenges and Prospects
Dr. Mary Mugwe, Deputy Director and Senior Lecturer in Educational Management, School of Education, Mount Kenya University.   Nurturing Young Peace Champions, Successes, Challenges, and Future Prospects  
Mr. Pietro Uzochukwu Macleo – Rotarian from the Rotary Club of Abuja, Wuse II.   A Journey to Promote Peace at the Grassroots in Nigeria – An Experience from Rotarians in Nigeria